What is Junk Removal?
Is your home or business overwhelmed with junk and debris?  Are you at a point that you realize something has to be done?  Sure most of the clutter is just junk, but there's probably items mixed in that you would like to keep as well.  Disorganized messes like these can effect every aspect of your life by causing stress, lack of concentration, health, and safety issues.
If you have junk cluttering your property, our junk removal professionals at Heartland Recycling have years of experience and would love to help you! We can pick up residential and commercial junk whether in the garage, basement, yard, attic, office, or warehouse! We are a FULL SERVICE junk removal company – meaning you don't have to waste your time sorting or bringing items to the curb.  We will do all the work for you!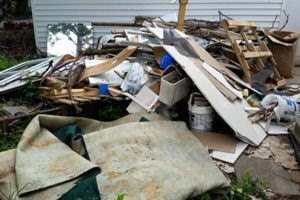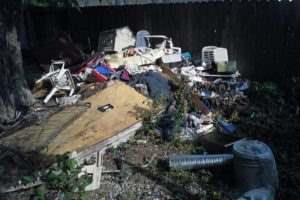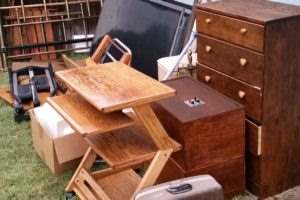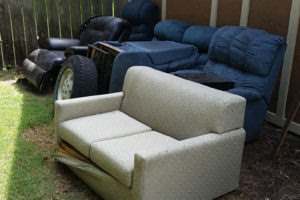 Junk Removal Equipment
We use a Ford F-650 Dump Truck to haul away your junk as well as an assortment of small trailers.  We call our truck "Ole Blue".  She's the perfect size!  Bigger than any other junk removal service vehicle; but still small enough to maneuver into driveways, yards, and fields.  This truck stands 9 1/2 feet tall and is 24 feet long.  Her dump bed dimensions are 18 feet x 8 feet x 6 feet which means she has a total bed capacity of approximately 32 cubic yards.  She is capable of carrying 4.5 tons per load.
We use "Ole Blue" mostly on small jobs: appliance pickups, tree limb removal, furniture hauling, and general household junk removal.  However it's the BIG jobs in which she really shines!  She can haul large volumes of pallets, demolition/construction waste, yard debris, and large heavy items.  One of the main advantages to her size is her ability to reduce cost by hauling large volumes in a single load. This makes her excel at large scale projects like rental clean outs, foreclosure clean up, warehouse/shop clean outs, and construction site jobs.
What kind of Junk do we Take?
We can properly remove and haul away almost any junk or debris including:
Appliances: refrigerators, freezers, microwaves, washers, dryers, water heaters, air conditioners.

Yard Waste: tree limbs, leaves, rocks, dirt, compost, grass clippings, and other landscape debris.

Construction and Demolition Debris: drywall, lumber, bricks, concrete, metal sheeting, insulation, siding, shingles, carpet, and much more.

Household or Office Junk: Furniture, trash, pool tables, hot tubs, boxes, TV's, mattresses, tires, filing cabinets, and anything else you don't need.

Electronics: computers, printers, monitors, cell phone, and anything that's powered by electricity!
We'll even haul  away the kitchen sink if you like!
Junk Removal Pricing
$23 per cubic yard.
A cubic yard is a measure of a volume in which materials fit in a space one yard wide by one yard deep by one yard high. Cubic yards are commonly used to measure materials. Common materials that are measured in cubic yards include: Concrete, Dirt, Junk, Yard Waste, and many more.  Example: The bed of a full size pickup truck has dimensions of about 8 feet long x 5.5 feet wide x 1.5 feet high. When loaded full and level with the top, a truck of this size will hold 2.5 cubic yards of material.
OUR GUARANTEE
WE WILL ALWAYS PROVIDE OUR CUSTOMERS WITH WRITTEN OR TYPED QUOTES.  WE GUARANTEE TO BEAT ANY QUOTE PROVIDED BY A LICENSED AND INSURED COMPETITOR.
Junk Removal Process
Call Travis at Heartland Recycling Services to schedule your quote for Junk Removal in Wichita, KS today! Travis can identify the most cost effective solution to your junk removal needs based on the volume, weight, and scale of your project. Travis is even willing to give a free in-person assessment of your job prior to scheduling to better understand your needs and budget.  After our quote is accepted we will schedule the pick up of your junk on the date of your request.
Your junk removal process will be handled in a professional manner from the first contact to your quote request, pick up, and haul away.  We take pride in our exceptional customer service and ability to find cost effective solutions to your junk removal needs.  No need to lift, sort, bag, or carry your own items.  We are FULL SERVICE meaning we do all the work for you!  Still not convinced?  We are one of few 5 star rated junk removal companies in Wichita, KS!  Please take the time to read our great reviews on Facebook, Google, and Yelp!